Course - Safety
CGC Course Safety Notice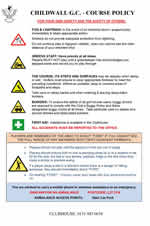 All members and visitors who play at Childwall should observe the Rules of Golf Section 1 Etiquette. They should show courtesy on the course and give due consideration to other players, and to the pace of play. Safety is an important consideration and all players should be mindful of the following:
It is the responsibility of all persons playing or practicing golf to take all possible care for the health and safety of themselves and other persons on the golf course. Prior to playing a stroke or making a practice swing, the player should ensure that no-one is standing close by or in a position to be hit by the club, the ball or any stones, pebbles, twigs or the like which may be moved by the stroke or swing.


In the event of mis-hitting a shot, the player or persons with whom he/she is playing should give the loudest possible audible warning to the person or persons likely to be in danger.


Golfers should position themselves where they are least likely to be struck by a miss-hit ball. Similarly, they should, whenever possible, walk in areas where their presence on the course will be obvious to other players.


Golfers should keep clear of mowers and other machines being used on the course. Players should understand that machine operators may not be aware of their presence and cannot be responsible for their safety.


Golfers should not play to an area where greens staff are working until the greens staff indicate it is safe to do so. Green keepers operating tractors and mowers normally wear earmuffs and may not hear distant shouts.


While the Club has in force a public liability policy, which protects the Club in respect of its legal liability arising out of incidents about the course or premises, members, temporary members and visitors are reminded that it is their responsibility to have in force cover in respect of their own legal liability. If a member, temporary member or visitor causes injury or damage whilst playing at the club, they could be held personally liable by a court and should insure against such eventualities.